For diagnostic, servicing and automotive repairs for all makes and models - European and Japanese, petrol, diesel and hybrid. We're efficient and we're reliable – we're Auckland Auto Clinic.
We specialise in servicing and repairing Audi and BMW right through to Volvo and Volkswagon using genuine factory parts or aftermarket as required by our clients.
We have over 10 complimentary loan cars and vans and can usually offer our clients a pick up and delivery service.
Our experienced team of mechanics can do it all – car and 4WD servicing and mechanical repairs, WOF, compliance repairs, tyres, wheel alignments, auto electrical repairs, hybrid battery repair and replacement.
Cambelt - timing belt replacement, clutch replacement or repair, transmission flush, fit tow bars and wiring, electronic diagnostics and fault finding.
We're your one stop shop for your tyre needs, we stock most major brands including Bridgestone, Dunlop, Hankook, Kumho, Michelin and Pirelli
If you need a quote on any type of repair work, cambelt replacement, brake pads or even a full engine replacement give us a call on 09 622 1265 or email: service@autoclinic.co.nz for a very competitive quotation.
Auckland Autoclinic can service and do your mechanical or electrical repairs for most of Auckland but we are very convenient if you work or live around these areas:
Ellerslie, Greenlane, Hillsborough, Mangere Bridge, Mt Wellington, Newmarket, Onehunga, Penrose, Remuera, Royal Oak.

Book your service by email and receive a $10 discount.
Opening hours
Monday to Friday 7.30am - 5.00pm
Saturday 7.30am - 1.00pm
Auckland Auto Clinic
First class service at a competitive price!
Complimentary loan cars available!
Free pick and delivery by arrangement!
P : 09 622 1265
E: service@autoclinic.co.nz
Find us here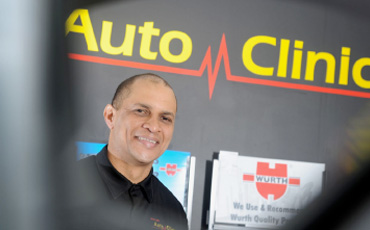 5 free fuel saving tips
Top up your tyre pressure.
Avoid using your brakes too much.
Don't warm your engine, drive gently.
Avoid stop/start driving.
Give your car an occasional blast.Honest!
Free oil guide click here to find out what oil is right for your car...
For more fuel saving tips
Safety Check
6 monthly: $40.00
If your car is a year 2000 or newer it is now on the 1 year WOF inspection cycle however a lot of problems or damage can incur over a years time leading to an unsafe vehicle and higher maintenance costs.
Learn More
APPROVED MAINTENANCE PROVIDERS FOR

SPECIALISING IN